The L desperately wants Lakers vs Celtics.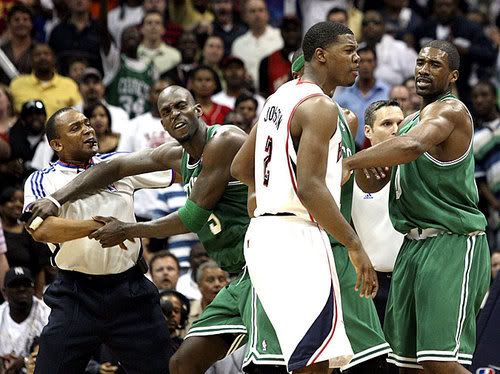 Forcibly removing a referee from your path to re-enter a fracas results in no punishment.
Nor does leaving the vicinity of the bench, unless of course you are a Phoenix Sun. Its really weird. Everyone decried
that ruling,
but I didn't see where the rule was actually changed.
I can't make any other sense than this. No blows where thrown, if you don't count KG's initial unprovoked elbow to Pachulia's head. Pachulia battles hard for the rebound, but its not a dirty play. It is a foul, but not a particularly hard one. Garnett reacts by slashing an elbow in Pachulia's direction, setting off the tiff. Decide for yourself.
For Kevin Garnett a violently thrown elbow about the head and a twice shoved referee do not equal a suspension. Must be nice.
Also, Sam Cassell sucks.