From ESPN.COM:
The trump card the New York Knicks have always held in their months-long chase of Carmelo Anthony has been the Denver star's refusal to sign a contract extension with any other suitor. But that all changes now if the Los Angeles Lakers make a credible pitch for Anthony by the Feb. 24 trade deadline.
[+] Enlarge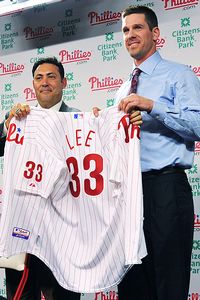 Drew Hallowell/Getty ImagesThe Yanks had a chance to land Cliff Lee last summer. They didn't, and he went to Philly come winter.
With Anthony reportedly willing to play for L.A., the Knicks' leverage is suddenly so weakened they'd be smart to remember this name: Eduardo Nuñez. Then adopt a new MeloDrama strategy: Prepare to overpay.
You say you don't remember Nuñez?
That's the point.
Nuñez is the shortstop prospect Seattle asked for as the last piece in a package deal that could've brought Cliff Leeto the Bronx last summer. The Yankees said no.
Big mistake. The Yankees now suspect their escalating offer was just being used to squeeze a better deal, but by refusing to part with Nuñez they may never know for sure. Texas stole Lee away by upping its 11th-hour offer to Seattle, and Lee helped the Rangers beat the Yankees in the playoffs to get to the World Series.
The Yankees figured they could, at worst, still get Lee as a free agent in the offseason without giving up any players -- which is the same scenario the Knicks have internally debated when it comes to raising their offer for Anthony. But the Yankees were wrong again. Lee signed with the Phillies instead. And the Yankees' starting pitching problems remain.
The Lakers have replaced the Phillies as the stealth candidate in this latest superstar-to-New York saga. And the Knicks would be smart to learn from the Yankees' reticence. Adding Nuñez to get Lee doesn't look like overextending themselves, in hindsight.
If the Knicks can finally end their chase of Anthony by adding either Danilo Gallinari or Landry Fields to the current three-way deal that's on the table -- the Knicks would send Wilson Chandlerto Denver and Anthony Randolph and Eddy Curry to Minnesota -- then the Knicks should do it already.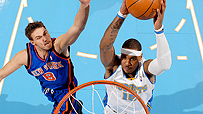 Stay in Denver? Go to N.Y. or L.A.? As MeloDrama plays out, enjoy photos of
a star's career: Carmelo Anthony 

And if Denver insists on Chandler, Gallinari and Fields, the Knicks could even be forgiven for gritting their teeth and making that deal, too. They supposedly overpaid for Amare Stoudemire but look how that's worked out. Time to make the Nuggets an offer they can't refuse.
The Knicks would still need to add pieces to win a title. But here's why you do it: Because 26-year-old superstars like Anthony shake loose in the NBA about as infrequently as pitching aces like Lee do. Because NBA history over the last few decades shows that teams without at least two superstars generally don't win titles anymore. Because no one knows if the new collective bargaining agreement the NBA has to negotiate before next season will change the salary cap, or perhaps even allow Denver to slap something like a franchise tag on Anthony.
The Knicks would be wiser to lock up Anthony now rather than wait and roll the dice on free agency like the Yankees did with Lee.
After all, it's not a stretch to imagine that Anthony would want -- even prefer -- to play for a Lakers franchise that is chasing a three-peat, already has Kobe Bryant and has shown an impressive ability over the years to be able to reload on the fly.
Nor would it be a stretch if the Nuggets tell the Knicks now that they prefer a Lakers package built around young center Andrew Bynum to anything Minnesota and the Knicks are offering.
But there's an obvious Knicks' counter to that argument, too.
SAS: The Return  
Stephen A. is back! Stephen A. Smith breaks down the Carmelo Anthony rumors with the Knicks and the latest on the Lakers being involved.
Does Denver really want to let Anthony stay in the Western Conference at all -- let alone help re-establish the now-drifting Lakers as the team to beat in the West by helping them put Carmelo, Kobe and Pau Gasol together? Really?
Expect a bit of a wait to find out.
Anthony is likely to be dealt later rather than sooner if the Lakers are involved. Don't be surprised if the pressure is allowed to keep building, building, building on all sides right up until the trade deadline. The Knicks could afford to ignore the better offers that teams like New Jersey were throwing at Denver when Anthony was only willing to sign a contract extension with them. But if the Lakers are involved? No.
The Lakers would like to have Anthony. The success-starved Knicks need him far, far more. So if the question before the Knicks now is whether to overpay a little to make it happen, the answer should be easy: Remember Nuñez. Then pull the trigger already.
Follow Johnette Howard on Twitter: @johnettehoward
I'm not a big MELO fan, but I am a HUGE fan of WINNING. After reading this article, all I kept thinking in my head was, "Why can't the Clippers be a Player in the Melo Drama?? Why can't we explore any and all options not including Blake/ Gordon?? If we build it, they will come. As Mike Miller/ Eddie House/ Z/ Etc. have come to Miami.. I would even be willing to give up D.J. if we get to keep Kaman OR vice versa. Why not make a pitch to MELO to become the next big thing in LA.?? He too is a Witness to the new and improved Clip show starring Blake Superior and all the ESPN highlights.
I would create the sickest video of Clipper 2010-11 highlights starring Blake/ Gordon, upload that b*tch on an iPad, and send copies to Melo, his agent, and his wife. Why the fuck not?? Total cost of investment? under $3,000. I'm sick of mediocrity. Fuck worrying about if he extends, just get him over here and make him stay by offering his input on players HE wants to bring in.
Steve, can you forward this article/post to Neil Olshey?
You can send him my cell number as well if he has any further questions, lol.
J.R.