That's it. It's over. The preseason, that is. It's time to just sit back and wait for the Clippers to open up the season next Thursday night against the Oklahoma City Thunder. Until then, there will be a few roster tweaks to get it down to the required allotment of players. Outside of that, not much else will really happen. But there were some interesting things that transpired tonight, that's for certain. (There will be GIFs but they're just there to showcase some of what happened.)
The result of this game doesn't really matter that much in the grand scheme of things. Portland out-hustled, out-rebounded, and out-played the Clippers for the vast majority of tonight. The Blazers ended up winning, 99-89, thanks in large part to the spectacular play of Damian Lillard and key contributions from Meyers Leonard, Chris Kaman, and Wesley Matthews. For Portland, Lillard was sensational. He dropped in 21 points on 12 shots and did it in a variety of ways. He drove to the rim, hit stepback jumpers, and nailed some crucial threes.
For the Clippers, there wasn't much to get excited about but two things did stand out above all in the "pro" category. Namely that Blake Griffin is extremely good and has worked on his jumper tirelessly. Whether it was by design or simply by sheer persistence, 12 of Blake Griffin's 17 shot attempts tonight came outside the paint. 11 of the 17 came from the mid-range and 8 of the 17 came from 16-to-24 feet. In total, he made 10 shots overall but happened to make 7-of-8 from 16-to-24 feet and 9-of-12 from outside the paint. He missed his only three so he was 9-of-11 in the mid-range department. Either way, it shows you how diligent he is. He turned what was once a perceived weakness into a perceived strength.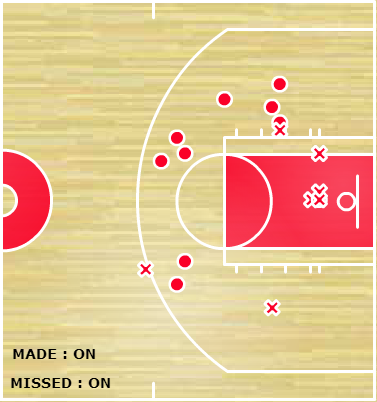 Blake Griffin's shot chart from tonight
Another one of the good signs tonight is that it appears that some of the roleplayers and key cogs for this year are starting to get into a good rhythm — namely J.J. Redick, Spencer Hawes, and Hedo Turkoglu. Matt Barnes even showed a little life tonight by going 3-of-8 for 6 points. The three shots he made matched his entire total from the preseason coming into tonight. So that's a positive sign. Also, Chris Paul's three-point shot seems to be coming around. He even operated without the ball a little bit tonight which seems like it might be a thing this year.
When it comes to the negatives from this game, well, DeAndre Jordan jumps right to the top of the list. As talented and awesome as he can be at times, he can be equally as frustrating and nonexistent. Sure, he had 9 rebounds in 24 minutes but he was pretty lackluster when on the court. His only basket came on a spoon-fed Chris Paul assist after Paul did some razzle-dazzle moves to shake loose from defenders and get into the paint. We all know DeAndre isn't going to be a focal point of the offense but the Clippers need him there for his defense and rebounding.
While he did have nearly ten rebounds tonight, he routinely would fail to box out Chris Kaman or Robin Lopez which would result in an offensive rebound and kick out to a shooter. Now, Blake Griffin isn't without blame here. It wasn't all DeAndre's fault. But Griffin was guarding guys like Meyers Leonard tonight, who was standing out near the three-point line, and Chris Kaman, who we all know can shoot the ball in the mid-range. If DeAndre wants a payday after this year, he needs to earn it by improving on the court.
Chris Paul finds DeAndre Jordan for the slam
The rebounding problem tonight is one that has plagued the team for the duration of the preseason. They've been out-rebounded a ton and need to keep offenses off the glass in order to sustain success. A possession doesn't end without a defensive rebound. Sounds like common sense but the Clippers are forgetting that simple notion. Portland rebounded 26% of their misses tonight. This is a problem the Clippers need to address and fix soon. They cannot let this linger any longer. It's like bashing your head against a wall because this has been a problem for some time now. It's been an issue for two different head coaches and players have come and gone, minus a few. It hasn't changed. It's a mindset that they haven't developed. This is the time to develop it.
With his play tonight, and by virtue of even starting this game, I think it's safe to say that Matt Barnes will indeed be the starting small forward on opening night for the 2014-2015 Los Angeles Clippers. Chris Douglas-Roberts has had his moments here and there but he's looked increasingly dreadful with each passing preseason contest. Plus, I think there's some form of chemistry between the guys when Barnes is in there as opposed to Douglas-Roberts. While it hasn't shown all the time, they're more comfortable with Barnes being the go-to-guy at small forward for vast stretches. Douglas-Roberts also has a problem with his hands, which is another reason Barnes gets the job over him. Actually catching the ball without bobbling or dropping it is a pretty big deal.
Blake Griffin sinks mid-range jumper
When it comes down to the issue of roster cuts, I think ultimately Doc Rivers decides to just get rid of Ekpe Udoh and Joe Ingles. The Ingles part makes me a tad sad simply because Ingles didn't get much of a chance but when he did, he didn't look half-bad. That's not to say he looked great or even noteworthy but he showed solidly. His basketball IQ is pretty damn high but if his body was better, you could really see him going places. In a way, I wish Doc had the fortitude to cut Reggie Bullock and give up on that pipe dream but, alas, he likely won't.
One interesting side note is that Doc could choose to cut an additional player in order to create one more open spot. Jared Cunningham would be the likely casualty but that's not a big deal. The reason this is mentioned is because Jermaine O'Neal and Ray Allen are still out there. Ray Allen likely won't come to the Clippers but O'Neal might. Yes, they had some beef last year during the playoffs but O'Neal is a difference maker defensively when he's on the floor. And we know that the Clippers need help in that department. No word yet on whether or not either one is retiring. They're basically stuck in limbo. Wouldn't hurt to put a feeler out and see if either one, namely O'Neal, would be interested in a spot.
Blake Griffin makes step-back jumper
Hedo Turkoglu looked good, yet again. If this were five years ago, he'd probably be the starting small forward on this team but this isn't the Hedo Turkoglu of five years ago. This is the Hedo Turkoglu of now. And the Hedo Turkoglu of now might just be the first forward off the bench for the Clippers in their rotation. He's making threes, he's always been a great distributor, and he's still out there hustling. Hedo's really impressed during the preseason and it makes you wonder just how long Glen Davis will last on this team if Hedo can stay healthy and play like this all year.
The Clippers wrapped up their preseason campaign at 2-6. Preseason records are meaningless but habits and information can be derived when watching the games. There are some concerning elements to this year's Clippers squad. They didn't show up that well defensively during the preseason and they got out-rebounded at every turn. That can't continue during the regular season. They'll be fine, though. This is a team capable of a deep run into the playoffs. They just have to believe in one another and get it clicking. Doc Rivers will get them on the same page. We can all rest assured about that.
Now, the Clippers turn their focus to next Thursday night when they welcome the Oklahoma City Thunder into town for the Clippers first regular season game of the year. After a thrilling and gut-wrenching 6-game loss to the Thunder last year in the Western Conference Semifinals, the Clippers will look to exact some measure of revenge when Oklahoma City hobbles in without defending Most Valuable Player winner Kevin Durant. It's time for the Clippers to shine. There's no more preparation. The games are for real now.