---
Nothing comes easy on the road, I guess. Even wins against subpar teams in which you're up by a sizable margin. It's been a theme all year for the Clippers. Whether it comes down to just easing up off the gas and refusing to fully crush an opponent's throat, or the bench, the Clippers have made a habit out of building big leads and watching their opponent claw back into the game. Tonight was no different as the Clippers and Pacers met in Indiana.
THE VIEW FROM INDIANAPOLIS
The game started off well for the Clippers despite Indiana making the first basket of the night. The two teams exchanged a couple early baskets before the Clippers ultimately went on a 19-5 run to put themselves up by 15 points with roughly 3:30 to go in the opening quarter. The Pacers made a quick little run to get the game back within striking distance before the end of the quarter, going on a quick little 12-5 run of their own that ended in an exchange of three-pointers by C.J. Miles and Spencer Hawes. The Clippers were up by 8 at the end of the quarter and things seemed to be going well.
But things seldom are what they seem these days and, once again, the Clippers bench came in as Doc Rivers went to his hockey substitution pattern(s). The bench ultimately didn't do that poor of a job on paper, when looking at plus/minus, during this stretch since Indiana only cut the lead by just three points in the 5:05 of game action that the Farmar-Crawford-Turkoglu-Davis-Hawes lineup was on the court. But it went beyond that. The entire bench unit just looked stuck in mud and too slow to react to anything. Indiana would use a quick 9-0 run to bring themselves back into the game and actually took the lead before the Clippers answered with a 10-4 run by the starters to end the quarter and give the Clippers a 54-49 lead at the half.
Things seemed to sort themselves out in the third quarter and it looked like the Clippers were finally going to run away with this thing like we all thought they would. The squad opened up the quarter on a 21-7 run in the first, roughly, 7 minutes. And then they just kept trudging along and making the Pacers pay, eventually achieving a 20-point lead just under 2 minutes to play in the quarter after Jordan Farmar hit a three. When the dust settled and the bones were collected, the Clippers found themselves up by 17 points, 82-65, and it looked like it would be smooth sailing.
And then C.J. Miles happened. Like, really happened. As a thing. In 2014. Miles entered the fourth quarter with 19 points after making some ridiculous shots throughout the night but he really came to life in the fourth quarter with 11 of his game-high 30 points. On top of that, Indiana got stellar play from an unlikely source in Lavoy Allen. Allen only was playing big minutes because of the injury to Ian Mahinmi. The Clippers also helped out Indiana a lot in the fourth by making quite a few mistakes. Whether it was just blatantly turning the ball over, failing to rotate and box a guy out, just not giving a damn on defense, or just standing around, the Clippers did it all in the fourth.
The Pacers had their chances in the final quarter. They were down by 5 with 7:30 to go after a Lavoy Allen offensive rebound and putback, only to not get back within 5 points until 3:40 to go when, guess who, C.J. Miles hit a three to cut the deficit from 8 to 5. Indiana would get within 3 after a Luis Scola layup and eventually cut it down to 2 with 2:00 to go when Lavoy Allen hit a mid-range jumper. It looked like the Clippers were going to struggle to close this one out. Then good things happened. Jamal Crawford hit a jumper, Blake Griffin got to the line and made a free throw, and the Clippers played defense pretty well over the final minute. It wasn't easy but the Clippers walked out of Indianapolis with a 103-96 win and stretched their season-high winning streak to 9 games.
NOTES
1.) There were good things from this game. A win is, obviously, always good but the other good thing was the defense. Let's face it, C.J. Miles was hitting some ridiculous shots. Without his performance, this game isn't even remotely close. He hit 7 threes by himself while the Clippers hit just 7 threes all game as a team. The Clippers defense held Indiana to 39.3 percent shooting and held non-Miles players to 24-for-67 (35.8 percent). They did their job for most of the night.
2.) That might have been the least impressive 17-10-5 type of game from Blake Griffin that we've seen in quite some time. He was 7-for-17 from the field and missed all 5 of his shots from outside of 8 feet tonight. He even airballed a couple times, if memory serves correctly. He was just off. Even rebounding. He grabbed 10 rebounds but he was out of position a few times and didn't seem interested at others. And on defense he let Luis Scola get free and fire away. I don't know what it was but he was pretty meh after the first quarter, where he had 8 of his 17 points.
3.) Chris Paul finished with a 17-8-15 line and even totaled 3 steals but also had 4 turnovers. It's just the second game he's had all year with 4 or more turnovers. He did score 7 of his 17 in the fourth quarter, though, and helped the team close out the game. I can't help but feel that he was even a little off tonight. He was just 7-for-16 and really struggled with his jumper all night. Paul won't be Point God every game so games like this do happen. To win despite that is good.
4.) I don't know what happens to the Clippers without J.J. Redick this year because his value running around is immense and this team needs him out there. He started off great, scoring 10 of his 16 in the first quarter, and it opened up a lot of things for the offense. He also had 4 points in the 3rd quarter and kept Indiana's defense from collapsing down low. He also chipped in with a key rebound, his only rebound actually, in the fourth quarter when he dove in front of a Pacers player on the perimeter when no other Clippers player was around. He was solid tonight.
5.) DeAndre Jordan abused Roy Hibbert tonight. So much so that Frank Vogel actually only played Hibbert 12:12. Roy went -20 in those minutes and DeAndre was just cleaning his clock on every possession. Jordan finished with 12 points, 19 rebounds, 3 blocks, and 1 steal on 5-for-8 shooting. He also took a three on the first possession of the game. And airballed. Can't fault him, though, since he had to heave it up late in the shot clock. But Jordan was really good tonight and the Clippers best player. They don't win this game without him and his performance against Roy Hibbert.
6.) Jamal Crawford hit a lot of crucial shots in this game. He hit a monumental three to double the Clippers lead from 3 to 6 with 2:45 to go and then hit a mid-range jumper a couple possessions later to push the lead from 2 to 4. Jamal had a team-high 18 points on a night in which the scoring got really spread around. 7 of his 18 came in the fourth quarter and, like Paul, were greatly needed. The two of them had 14 of the team's 21 points in the final stanza.
7.) Give Indiana (and Frank Vogel) some major credit. They didn't quit when it looked like the game was going to get out of hand and become a blowout. Vogel gets a lot of credit because he recognized three problem areas as they were happening. Chris Copeland, Solomon Hill, and Roy Hibbert were giving him nothing so he opted to just roll with C.J. Miles, C.J. Watson, and Lavoy Allen in their stead. They each had good performances and were the major reason that Indiana was able to claw back into the game and hang around. Luis Scola also came up big with 12 points and 14 rebounds of his own. Allen had 14 points and 13 rebounds, Miles had the aforementioned game-high of 30 points, C.J. Watson managed to chip in 8 points and 7 assists despite his 1-for-7 shooting. Vogel got the most out of his bench and stuck with them.
8.) Oh my god we cannot keep playing this Turkoglu-Davis-Hawes lineup much longer. I know we kinda have to for some periods of time but good gravy they're terrible together. I get what their skills are and how they could theoretically work together but they have no athleticism and that is death against second units that have a wealth of competent players. The defense just isn't there and it sucks to watch. It has to eventually stop at some point.
9.) The Clippers won a game when they were 7-for-24 from three, faced a guy who scored 30 points on 22 shots, and generally got lackluster performances from their stars. Even against a subpar team, that's a good thing. This wasn't the Clippers best game. It was probably a B- game for them. Yet they still won. Against bad competition you can do that. If not for C.J. Miles, this is still a blowout and we look at this game differently.
10.) Ralph Lawler and Mike Smith had their "CarMax Haggle / No Haggle" question earlier in the night and it asked if Blake Griffin was going to outscore David West by at least 10 points. Well, he did. Blake had 17 points while West finished the night with a measly 2 points on 1-for-7 shooting with 3 rebounds in 25:29. As average as Blake Griffin was tonight, he still thoroughly outplayed David West and that's sort of a big deal since Griffin's struggled with West in the past.
CONCLUSION
It wasn't pretty, it wasn't great, but a win is a win is a win. Up next for the Clippers, they have to travel to Washington to play the Wizards on Friday night before heading to Milwaukee on Saturday night to play against the Bucks. Tonight, the Wizards won on a buzzer-beater layup by Bradley Beal. Washington has their own problems. Such as they had to come back from down 8 on the road in the fourth quarter against Orlando. And they look lackluster for vast stretches of time even with the type of players that they have. We'll get to see Chris Paul vs John Wall, J.J. Redick vs Bradley Beal, Paul Pierce and Doc Rivers' reunion, and the bigs matchup of Griffin/Jordan vs Nene and Marcin Gortat. Oh, and there's Kris Humphries. And former Clipper Rasual Butler.
Anyways, the Clippers are now riding a 9-game win streak. Their next two games, despite being on the road and against solid to good competition, are winnable. Win both, and the schedule eases which means the Clippers could potentially have a 15-game winning streak heading into San Antonio in a few weeks. That's getting too far ahead of ourselves, though. Either way, enjoy the win. The Clippers are now 16-5, have won 9 in a row, and are playing some solid basketball and winning games even when they're not. It's a slight change from how the season started.
NBA.com Interactive Box Score: Click Here
NBA.com Box Score PDF: Click Here
Popcorn Machine GameFlow: Click Here
Reaction O' The Night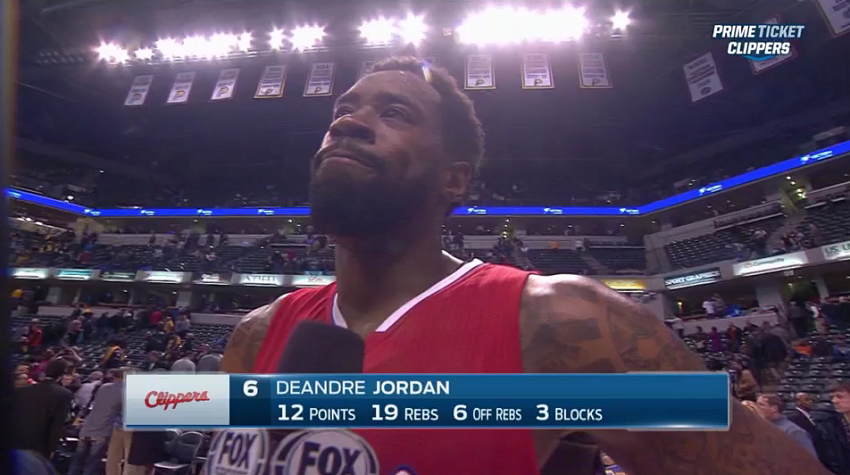 Yup. That about sums it up, DeAndre.