The third meeting of the year between the Clippers and the Suns went about as expected for the first 24 minutes. It was a very hotly contested affair and then the Clippers took over in the third quarter and the game seemed to be almost over. But then the Suns came marching back and made it look like a great finish was in store. However, something interesting happened after that. A change was made and the Clippers flourished. Let's relive the action.
Sunday January 25, 2015 - US Airways Center - Phoenix, Arizona
The game got off to a rather dull start, as both teams tried to find their touch early from the floor. The Clippers first basket didn't come until almost three minutes into the game, when a great passing display ended up in a DeAndre Jordan dunk. After a few more minutes of back-and-forth action with little payoff, J.J. Redick hit a nice three to put the Clippers in front by that margin early on. A few possessions later, Blake Griffin announced his arrival with a thunderous dunk after a Jordan offensive rebound. Shortly after that, Chris Paul used his excellent awareness to locate Blake Griffin for a nice-looking two-point jumper that put the Clippers up by seven points. When the first quarter ended, the Clippers saw themselves up 23-16 thanks in large part to Griffin's ten points that included one dunk and four deep jumpers. But DeAndre Jordan's presence was also huge, with him putting in four points, five rebounds, and blocking three shots officially while altering a ton more.
The second quarter didn't start off so bad for the Clippers despite coach Doc Rivers going with an all bench lineup of Austin Rivers, Jamal Crawford, Hedo Turkoglu, Glen Davis, and Spencer Hawes. The unit even stretched the lead at one point, after Spencer Hawes showcased beautiful footwork in the post that ended in a dunk and-one. The bench even got it up to a ten point lead, 39-29. Starters for the Clippers started to come back in and paid off with an alley-oop from Crawford to DeAndre Jordan and Blake Griffin showing off a dazzling array of moves that ended in a dunk. But then all hell started to break loose. Using a 14-4 run, the Suns tied it up at 43 apiece. The two teams exchanged baskets and runs until Phoenix ended the quarter on an 11-2 run before Redick's monstrous three helped the Clippers draw closer. Phoenix ultimately led, 57-55, at halftime.
THE VIEW FROM THE VALLEY OF THE SUN
After halftime, it looked like this game would be a seesaw affair. Blake Griffin started off the quarter with jumper, Markieff Morris tried to kill Matt Barnes with a dunk and ultimately got a technical foul for talking trash to him. Because of protocol put in place by Suns coach Jeff Hornacek, Morris was benched after Phoenix took a 60-58 lead with 9:50 to go. Markieff would never return to the game. More on that later. DeAndre Jordan had an and-one to put the Clippers up by a single tally but Eric Bledsoe took the lead right back. And then Los Angeles went on a 13-3 run to take a 9-point lead that had featured a huge three by Chris Paul. After two threes by Spencer Hawes, the Clippers enjoyed a 13-point lead and eventually took a 12-point lead with them to the fourth quarter.
After a quick start by the Phoenix Suns, Glen Davis tried to silence the ground by literally throwing his rear end into their faces. Clippers eventually regained some semblance of control after Turkoglu's three put them back up by nine. With 7:30 to go, the Suns had eventually cut the Clippers lead all the way down to 96-94. And then Doc Rivers made a change about a minute later. With the Clippers up by four, coach Rivers opted to bring in J.J. Redick into the game in Jamal Crawford's stead. It paid immediate dividends. The Clippers ultimately went on a massive 13-0 run after Redick returned and put the game away thanks to Hack-a-Jordan and DeAndre making the free throws. At one point, Jordan missed a free throw, the team got the rebound, and then this happened. DeAndre, to his credit, made Phoenix pay for that strategy. He made six in a row, even intentionally banking a couple of them in. After the final buzzer sounded, the Clippers found themselves ending the game on a 24-6 run and coming out on top, 120-100.
TEN TIDBITS
1.) Big thing to mention is that Markieff Morris got benched by Jeff Hornacek after his technical foul with 9:50 to go in 3rd quarter. The Suns were up by two points, 60-58, when it happened. The reason it's a big deal is because Morris has been one of their better players lately but Hornacek's way is to bench guys who get a technical foul in an effort to teach them to control themselves better. Some might disagree with his method, because of the results of this game in particular, but I do applaud him for sticking to his guns. He didn't change it up. Stayed true to his word.
2.) Chris Paul only had seven points at halftime and it seemed like the Clippers would need him to start scoring if they had a chance at winning. And score he did in the second half. In the third quarter alone, the dynamite Point God had nine points, two rebounds, and four assists. In the fourth quarter, he left his imprint by putting up seven more points. When the team needed him the most, Paul showed up and showed why he's great. He finished the game with 23 points, 12 assists, 8 rebounds, and 2 steals on 7-for-11 shooting overall, 3-for-5 from beyond the arc, and 6-for-7 from the line. The only free throw he missed was a technical.
3.) Blake Griffin showcased a willingness to let his jumper fly tonight, and Phoenix definitely seemed okay with letting him do it. Problem for them was that Blake went 9-for-12 from 16+ feet in this game. He was nailing them all night, including going 6-for-6 from the top of the key. He went 11-for-19 overall, which means he was either hitting those long two-point jumpers or finishing off a dunk since the other two makes were indeed flushes. Griffin finished with 23 points, 7 rebounds, and 7 assists. It was his fourth 20-7-7 game of the year, which ties Steph Curry of Golden State for fourth most in the NBA. The only others with more are LeBron James, James Harden, and Russell Westbrook.
4.) I can't go much longer without talking about the impact DeAndre Jordan had in this game. This was truly a game when the Big Three, on each side of the ball, showed up. Jordan finished with 18 points, 14 rebounds, and 4 blocks. But he was so dominant on both ends of the floor. Besides the blocks, he was altering a lot of shots around the rim and was a large reason that Phoenix only shot 19-for-34 in the paint. He was 5-for-5 from the field and then made the Suns pay at the free throw line by going 8-for-15. While shooting 53.3 percent isn't a great percentage from the line, it is huge for Jordan. He was everywhere and generally was a key catalyst all night.
5.) Phoenix didn't go away quietly. They used the Hack-a-Jordan strategy late in an effort to curtail the Clippers offense, which was humming along after Redick's return in the fourth, but it just didn't work. It wasn't even that Jordan was making most of the free throws. On two separate occasions, the Clippers got an offensive rebound on a Jordan miss and Phoenix couldn't do anything to stop it from happening. While some hate the strategy, I really don't mind it. Suns paid the price for using it today, though.
6.) The bench didn't do half bad today, if we're being completely honest about it. The only negatives, in my eyes, were Jamal Crawford and Glen Davis. The Suns attacked Crawford and Davis on defense repeatedly and neither guy had enough offense going to make a difference. There was also Doc Rivers sticking with Turkoglu too long and the Suns attacking him a little bit, but at least he finally recognized that J.J. Redick should be in the game with the starters at the end instead of Jamal Crawford. Doc finally made the change sooner than usual and it really helped the team close this one out.
7.) I knew he was going nuts in the quarter, but I didn't notice how ridiculous Isaiah Thomas was in the fourth quarter. He had 17 points in the 8:21 that he played. And he did it on just six shots. Unreal. But, the good thing for the Clippers was that they didn't let anyone else get off. Thomas had 17 of Phoenix's 23 points in the quarter. The rest of the team shot 2-for-11. The only other shots that were made were threes by P.J. Tucker and Gerald Green. That was it. So while Thomas was going off, no one else was.
8.) Matt Barnes wasn't great tonight, shooting just 1-for-9 overall. But he was helpful in other ways. He still supplied energy defensively, crashed the glass, and even had two steals and two assists. That's important. While he wasn't great, he still did enough to help. And it didn't hurt that the Suns wings of Gerald Green and P.J. Tucker combined to go just 3-for-17. So Barnes' lack of offensive output didn't hurt the team today.
9.) Phoenix scored 41 points in the second quarter alone but the Clippers held them to just 43 total points in the second half. It's not often you can say a team scored 100 points but you still defended them well. The Clippers did today. Phoenix managed to shoot just 42.5 percent and that was even with a quarter that saw them shoot 63.6 percent. The Clippers held the Suns to just 35.3 percent shooting over the final half and in three of the quarters, they held Phoenix to 36.0 percent or less. For a team that has defensive question marks, the Clippers put their foot down and stopped all the noise tonight. Especially when they needed to. They held the Suns to just six points over the final 7:30. Impressive.
10.) I'd not be doing my due diligence if I didn't mention little bits of information like Marcus Morris scoring 11 straight points for Phoenix in the second quarter and the HYDRA lineup really working when Hornacek turned to it. It should also be mentioned that Austin Rivers actually played okay today. He looks like he's finally understanding his role and competing hard on defense, using his energy on the glass, and helping where he can. Rivers also hit a jumper in the game. He might not be great but he appears to understand his role and gives the effort it requires. Got to take your hat off to that. And, also, J.J. Redick was sensational. He finished with 20 points on just 12 shots and made 3-for-4 from deep. He hit clutch baskets at the end of second and third quarters, as well. The guy is just so crucial. Lastly, there was Spencer Hawes, who not only hit two threes but also had an and-one dunk and played well. He's still good. So it's okay to stop freaking out about him.
CONCLUSION
The Clippers are 30-14 right now. As it currently stands, they are 4th in the Western Conference standings but Houston plays the Lakers tonight and we already know how that's gonna go. So the Clippers will, most likely, be 5th going into their game tomorrow night against the Denver Nuggets. The Nuggets have their own issues. However, it looks like Ty Lawson is back after his run-in with the law. Either way, it'll be a tough game for the Clippers despite it being at home. But let's take a step back and look exactly how the Clippers are faring right now.
The team has won four in a row. Their next three games are pretty winnable. The Clippers presently sit just 1½ back of the 2-seed in the Western Conference. This team, while people wondered what was wrong, is still good. They were 29-15 at this point last year, 32-12 the year before, and 26-18 the first year with Chris Paul. This team is getting better as the season goes along. They're now 11-4 since Christmas and getting better defensively. While every other team started out hot, the Clippers just kept churning along. It reminds me a little bit of some of Doc Rivers' Celtics teams. Just went about their business, let others get the spotlight, and then just made playoff runs. This team is okay.
NBA.com Interactive Box Score: Click Here
NBA.com Box Score PDF: Click Here
Popcorn Machine GameFlow: Click Here
Pic O' The Night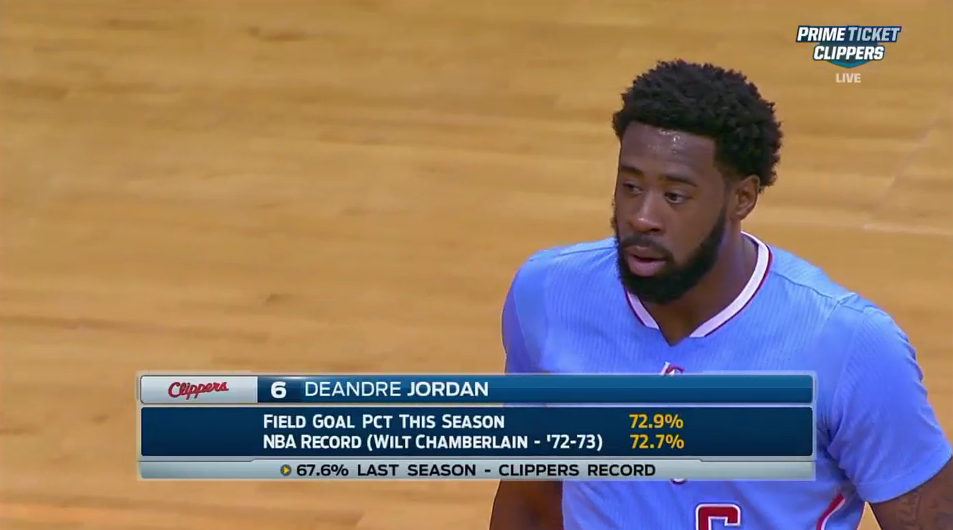 As always, red links are GIFs that pop-up in a new window. Enjoy.