During the regular season, the Rockets and Clippers met four times. They split the four game series. Despite splitting the four games, Houston's brilliant euro-stepping shooting guard managed to average just 20 points per game on 35.8 percent shooting. In fact, James Harden has managed to average just 19.6 points per game over the last eight regular season meetings against the Los Angeles Clippers and has gone just 11-for-55 from three. Perhaps the Clippers know how to defend him better than most and possess a strategy that helps nullify what makes him great. With all that said, he still played a good offensive game – minus the turnovers – in Game 1. So, how did the Clippers attempt to combat him? And did it really work? Well, thankfully we can take a look back at some of the tactics the Clippers used in this edition of "The Film Room."
There has been a lot of talk leading up to this series about how the Clippers would choose to defend James Harden. Most people just assumed they'd stick Matt Barnes on him and just try to limit what the other players would get. Others thought the Clippers would just stick J.J. Redick onto him and let Redick try his best to keep Harden from doing what he does best; getting to the line and wreaking havoc that way. In Game 1, the Clippers employed a mix of looks and attempted to make Harden uncomfortable by switching up who the main defender would be. They showed Redick on Harden during the first possession of the game for Houston as the Rockets tried to run their bread-and-butter Harden-Howard pick-and-roll with a shooter in the weakside corner. On this play, watch how the Clippers defense moves as one to sniff out the preliminary pick-and-roll by the Rockets.
As you can see, the Rockets try to initiate the ball to Harden just off of a simple cut. Dwight Howard steps up to set a screen for Harden and DeAndre Jordan follows him up towards the top of the arc just in case Harden steps over the top of the screen for a three. Redick gets around the screen admirably and can get back into position thanks to Jordan's positioning. Jordan gets low, slides well to contain Harden, and then slides back once Redick gets in position in order to stop any lob to Howard. The Rockets then run a quick side pick-and-roll with Terrence Jones that Harden feeds beautiful only to have Jordan stuff him and then alter his second shot due to just being in the vicinity. One other note is how well Matt Barnes chokes down on the Howard roll but keeps his awareness of where Jason Terry is as a weakside shooter. Once Jordan recovers, Barnes recovers back to Terry. Jordan bought time for Redick, Barnes bought time for Jordan, and they all worked in unison to combat an early pick-and-roll staple of the Rockets.
Having the entire defense move in unison to combat the Rockets pick-and-roll is a big deal. They love to run pick-and-roll sets with the weakside wing shooter, so if you can push the ball-handler in one direction then you effectively cutoff the other side of the court from his passing range and vision. By clamping down on the roller with the weakside defender, you allow the big to hedge onto the pick-and-roll even more and make life a little tougher for the ball-handler because it strings the play out towards the sideline and congests the floor with bodies. On the very first play of the game, we saw how the Clippers chose to defend the pick-and-roll twice. On one, it was to contain the ball-handler and make sure you don't give up anything in the middle. On the other, it was to force the pass towards the middle with a less adept finisher and where the help was waiting in the form of DeAndre Jordan.
This was Houston's second possession of the game and came after a Clippers miss. It starts off in secondary transition and Barnes is switched onto Harden because of this. Harden likes to go right and perform a stepback a lot so Barnes makes sure to not get handsy defensively on this play. Harden power dribbles to his right, extends the elbow slightly to nudge Barnes away from him, and steps back into an 18-foot jumper that he misses off the front iron. As far as defending this goes, the Clippers do a quality job. Barnes slides his feet well, doesn't get caught reaching in, and Griffin is there to cut off any potential passing lane to the middle of the floor. The one area that could cause Barnes some problems is that Harden does employ the stepback head fake and draws fouls that way. Barnes jumps towards Harden but also makes sure not to jump at Harden. Going forward in this series, Barnes could have problems if Harden decides to head fake on the stepback and jump into the defender to draw a foul.
On the first three possessions of this game for the Rockets, we saw three staples of what Houston wants to do offensively. The first one is to run the middle pick-and-roll to space the floor with shooters and attack via lob passes if defenders don't show on the roll or hit weakside shooters if defenders crash too much on the roll. The second one is to just isolate Harden and let him go one-on-one defensively. This one is the other one. It's Harden in transition. This is where Harden does a ton of his damage, especially drawing fouls by using his elbows to generate contact. Harden gets the rebound after a Howard block, races up the floor, and goes right at the body of Jordan. To Jordan's credit, he stays straight up with his arms and turns his body while contesting Harden's attempt. Meanwhile, Austin Rivers smartly dives in and rips the ball from Harden's grasp. One of the other things to notice is how Matt Barnes aggressively runs back to dive in front of any pass that might have gone towards Trevor Ariza in the corner. All four Clippers defenders who hustled back did their job as a unit. That's the story and way to defend Harden. While going for the rip against Harden is risky here, it's clear that Rivers steps in front of Harden as Harden is too occupied thinking about attacking Jordan. It was smart.
During the regular season, James Harden racked up 465 points on the fast break. That ranked as the third most in the NBA. As did his 5.7 fast break points per game. Harden drew 6.7 fouls per game, which was second in the league, and an astronomical 542 in total this season, which led the league. Quite a bit of those came in transition as you'd imagine. Harden has mastered drawing fouls. It's an art form that should actually be lauded more than admonished. He uses every crevice of the court to his advantage and can bend the will of defenders by drawing them into his realm when initiating contact. It's commendable and smart. But this was just the beginning of the game and Harden started to get going a little bit towards the latter half of the first quarter.
Remember that middle pick-and-roll that the Rockets ran on their first possession that the Clippers defended exceptionally well? They ran it again here but the Clippers don't defend it nearly as well. And it all starts with DeAndre Jordan. Redick is once again on Harden as Howard sets the screen right at the arc. Redick shades Harden trying to force him back to the right but Harden expertly and wisely goes left. Jordan is late on his slide and in poor defensive position. He's not as low as he was on the first pick-and-roll of the game where he walled Harden off beautifully. Instead, Harden's able to use Jordan's lazy posture to his benefit and waltzes right in for a layup. As an aside, Jordan's posture could have been him standing tall to deny any lob attempt to Howard but you should want to deny the layup attempt before you deny the lob. Rivers can't help on the drive because it'd leave the strongside shooter – in this case, Jason Terry – wide open. Griffin has to move with Jones but is there to box him out. This leaves it entirely up to Jordan to stop the layup. Howard's aggressive roll makes it likely he gets a putback dunk here but it's not needed as Harden scores. One or two of these a game is understandable but the entire team has to stay locked in for the vast majority of the contest.
Classic James Harden. Gets ball, runs in transition, draws foul, and hits the layup. The Clippers problem here is that the big running the floor on defense – which is Blake Griffin on this play – foolishly turns his back on the freight train in the open court which lets Harden run right up on him and draw the foul while getting the easy bucket in transition. When running back on defense while Harden has the ball, you cannot turn your back to him and allow him to just run right up on you. Harden is quick in the open court and constantly tricks defenders into thinking he's not as swift as he is. Looks are deceiving when it comes to him; especially in fast break settings. The Clippers stopped a Harden transition look early in the quarter but let him get this one. The big not being DeAndre Jordan on this play had something to do with it but just having spatial and situational awareness would have done wonders for the Clippers and Blake Griffin on this play. It resulted in three points and a quick swing in momentum.
This is another lack of situational awareness by Griffin. The Rockets run another 1-5 pick-and-roll here but this is a different variety because instead of Dwight Howard, Houston has Josh Smith as the roll man. The Clippers defend the initial roll action well and even pinch down onto the corner shooters like they should. The issue here is Blake Griffin's lack of recognition of what James Harden likes to do in this situation. Griffin does a good job of shutting off the driving lane when he hedges but allows Harden to venture too far away from him. This allows Harden to casually stroll into a half-stepback three as time winds down. If Griffin had recognized the time on the clock a little better and understood the personnel a tad more, the right play would have been to press into Harden and force him to put the ball on the floor once more with the clock winding down. As it stands, Harden is an adept shot maker and makes the Clippers pay on this play.
There's obviously a lot more to a basketball game than just the first 12 minutes of it. We all know that. Harden had the ball in his hands quite a bit in that first quarter. In that opening period, James Harden had a Usage Rate of 30.6 percent. The rest of the way, his Usage Rate was only 23.8 percent. Now, Usage Rate can be flawed sometimes since it only registers possessions that end with that player shooting free throws, turning the ball over, getting an assist, or throwing up a shot attempt. Your Usage Rate won't increase if you made a great read on a pick-and-roll only to see you get a secondary assist – which doesn't show up in traditional box scores – instead of a primary assist. The Clippers locked in defensively in the final three quarters, though, and forced Harden to play at their pace. They forced Harden to give the ball up early in pick-and-rolls and made other guys make passes or shots to beat them. It didn't happen in this game. It could in the future but it didn't in Game 1.
One of the other things the Clippers did was wear Harden down a little bit on the other end of the floor. Harden had to either guard Matt Barnes or J.J. Redick most of the night. He gets tired chasing Redick around and Barnes showed up just enough in Game 1 to make Harden have to respect where Barnes was at all times. Harden's offense is his calling card. While he has improved on defense this season compared to last season, he can still get downright lazy and uncaring when things aren't going his way offensively. That was clearly evident on this play late in the game with the game decided, but not yet over, and Harden not giving a care in the world to even pay attention to what was going on.
It's easy to poke fun at Harden for being a completely negligent defender on this play but this speaks to a larger thing that happened in this game. Things didn't go Harden's way and he let it affect him on the other end. That's something that he will have to remedy as this series drags on. The Clippers aren't Dallas, that's for certain. While Houston was able to take possessions off defensively against the Mavericks because they knew they could score at will against Dallas' porous defense, that's not the case with the Clippers. Taking possessions off isn't going to bode well for them or Harden specifically.
Defending Harden is a team thing. No one guy is just going to stop him unless that guy is someone of the caliber of Kawhi Leonard, Tony Allen, or Jimmy Butler. But even those guys give up points and shots to even the best players.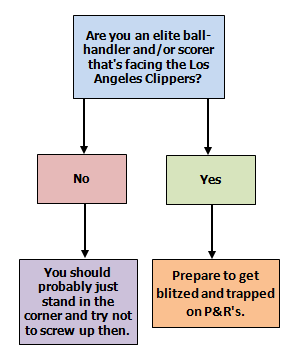 While J.J. Redick and Matt Barnes did a great job of forcing Harden out of his comfort zone and towards the help in the middle, it will take at least three more games of that type of intensity and focus. Being able to stay out of foul trouble, which Redick does beautifully due to knowing his limitations as an athlete and knowing where to keep his hands, is a huge part of the battle. There are at least three more battles to go before winning the war.
This series just started. However, if Game 1 was any indication into how the Clippers will defend James Harden, the Rockets are in store for a tough go of it. The Clippers like to blitz pick-and-rolls and trap them while having weakside defenders pinch down on the roll man in order to bog things down for opponents and deny passing lanes. The Rockets had trouble figuring that out in Game 1 and it led to a slew of turnovers for not only James Harden but the team as a whole. And that was without Chris Paul, one of the league's premier perimeter defenders, playing. Harden has to be engaged more offensively and defensively for the Rockets to fare better. The Clippers will defend Harden in a similar fashion as Game 1 for the foreseeable future. It's up to Harden and Houston to adjust. If not, they're looking at a quick series against a Clippers team that looks a little bit locked in defensively this postseason.